Chicken breast--my son describes it as "A blank canvas".  No matter what your cultural background is, chicken probably plays a prominent culinary role.  Boneless, skinless chicken breast is enjoying unprecedented favor for its low-fat, high-quality protein at a very reasonable price.  Chickens have been bred to meet the public's demand for large, meaty breasts and the efficiencies in the chicken raising business mean chickens can go from egg to slaughter in as little as six weeks, resulting in record low prices.
Consumer demand has also led to new techniques in chicken raising--from Organic, to No Antibiotics Ever (either veg fed or standard), to Cage Free to standard.  Regardless of your personal leanings toward chicken husbandry, at some point the goal becomes preparing the chicken for consumption.
In my busy CPA and mom world, the goal is for dinner to be on the table in thirty minutes.  Sometimes that means cutting a corner here or there (like every day . . ).  The biggest time-saver for me is to prepare protein items ahead and freeze for those busy nights (which seem to be about every night!!)  If you have high-quality cooked chicken breast in the freezer, the opportunities for quick meals are endless!
Too many of us have been disappointed by dry, freezer-burned chicken breast.  It doesn't have to be that way, and I'm excited to share what I think is the very best and easiest method of taking advantage of good buys on chicken breast to make your life easier.
.
World's Best Meal Prep Chicken Breast!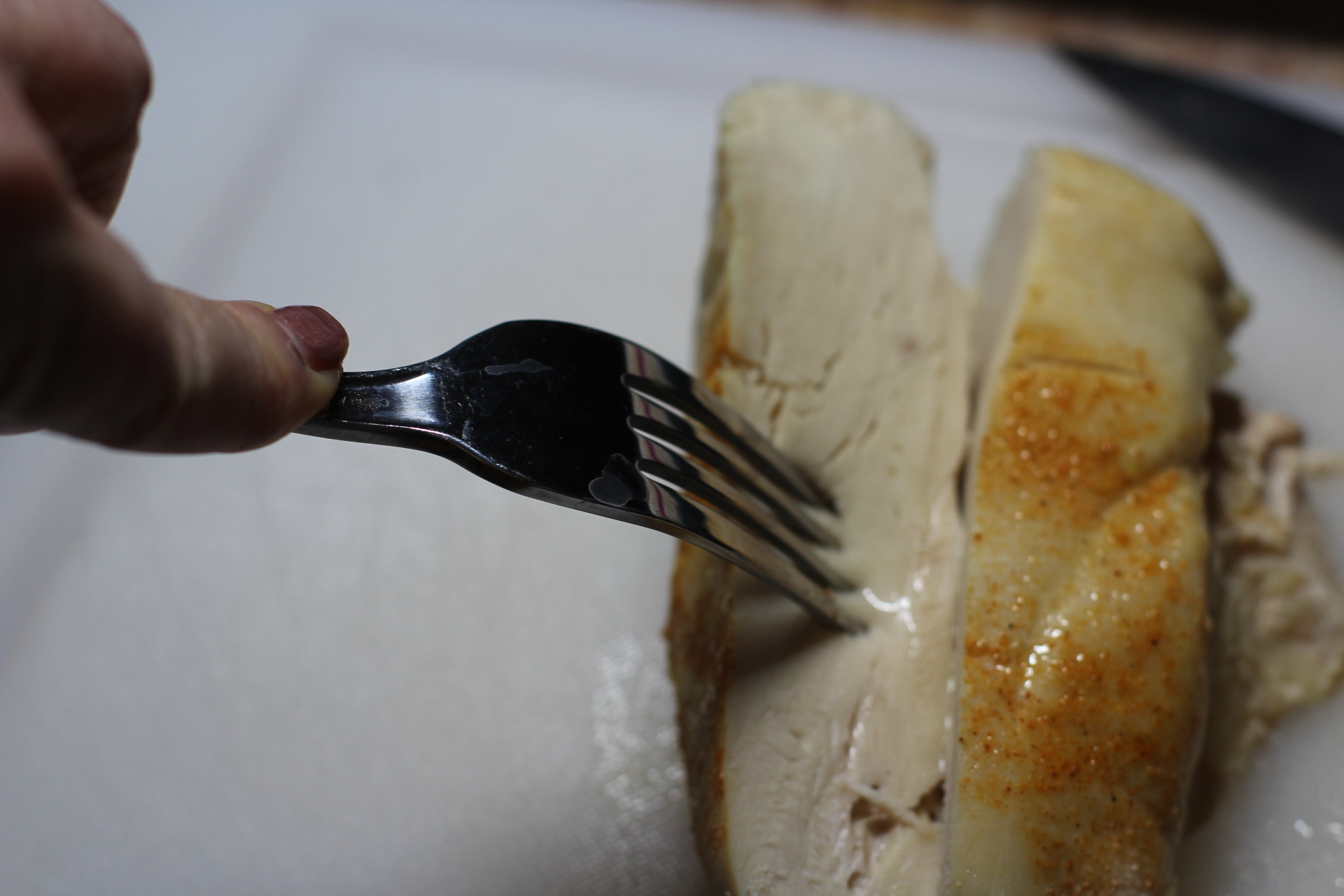 Ingredients
10 lb high-quality boneless, skinless chicken breast without added salt and water
2 t. seasoning salt (or combination of salt, pepper, onion power, and garlic powder)
1 large (turkey size) roasting bag
Aluminum half-sheet pan or large roasting pan
5 T. Ultra Gel®
Instructions
Position the roasting bag on the sheet/roaster pan and add the chicken breast pieces. Ten pounds will fit on one layer. I have been known to do twenty pounds at a time (two layers) and it can be done in the large roaster bag, but make sure you have a pan with high sides, so the liquid in the bag is supported.
Sprinkle the chicken pieces with the seasoning salt or other seasonings.
Close the bag with the provided tie
Cllp a few holes in the top of the bag per the manufacturers' direction
Roast at 250 degrees until the temperature reaches 165 degrees in the thickest part of the largest breast piece. DON'T OVERCOOK IF YOU WANT MOIST CHICKEN!
Allow the chicken to rest in the juices, without opening the bag for one hour. Pour the accumulated juices into a heat-proof container (a 4 cup measuring cup works great).
Measure 2 1/2 cups of the juices, then stir in 5 T. Ultra Gel®. The juices will thicken slightly.
Remove the chicken from the roasting bag to a cutting board and cut into cubes or slices, using a sharp knife. Collect in a large bowl.
Pour the thickened chicken broth over the chicken pieces, tossing gently to avoid breaking the chicken pieces.
Package in ten bags. Each will have the equivalent of 1 lb of raw chicken. I like to use zipper-seal sandwich bags for portion control and gallon size freezer bags for protection. Each gallon bag will fit 4 sandwich bags.
Allow each gallon bag to freeze before stacking to ensure quick and safe freezing.
When ready to use, start with one minute at full power in the microwave. Add an additional minute if the product needs more thawing--each microwave will be different.
If you're adding the chicken to a soup, stew, casserole, etc, wait until close to the end of the cooking time to keep those beautiful pieces of chicken intact!
7.8.1.2
25
https://carnetfoods.com/worlds-best-meal-prep-chicken-breast/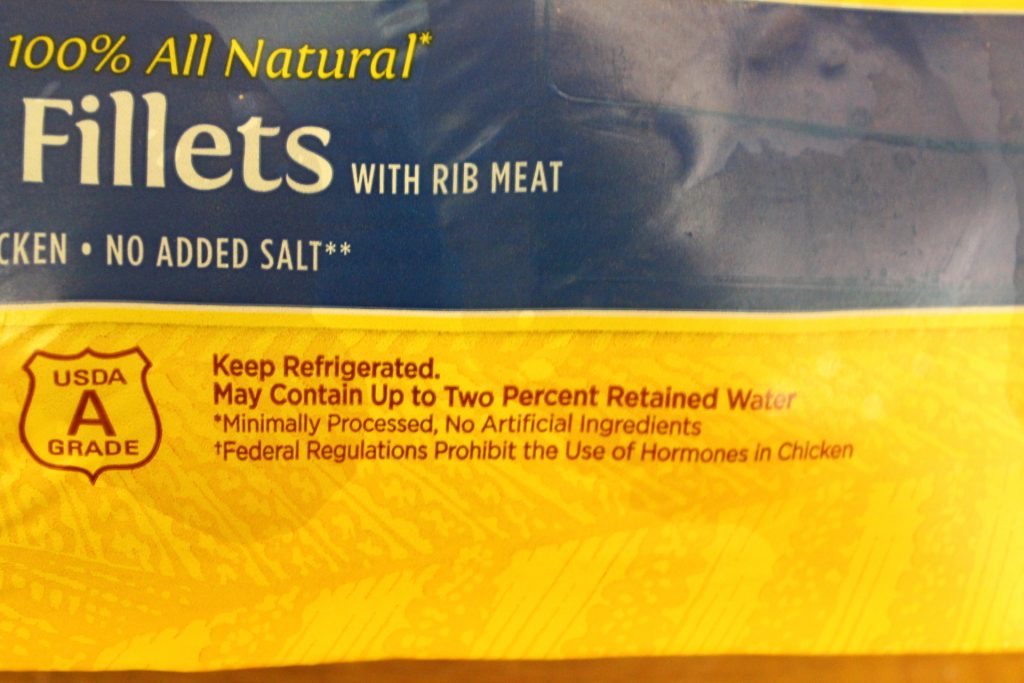 So first--start with high-quality chicken breast.  The first thing to look at is the ingredient list.  Some chicken has a salt and water brine added to it, theoretically for extra moistness.  Few of us need extra salt, though, and the consumer ends up paying chicken prices for up to 15% added water.  Just don't do it!  Watch for quality brands to go on sale and watch for a label designation of "No Added Salt".   It really isn't any more expensive!
Good quality breast meat shouldn't have a lot of fat on it.  The little bit it has can be left on and trimmed off after cooking if it is objectional.
Place the breast pieces in a large turkey roasting bag.  Season with seasoning salt or your own combination of salt, onion, and garlic.  Paprika adds some nice color.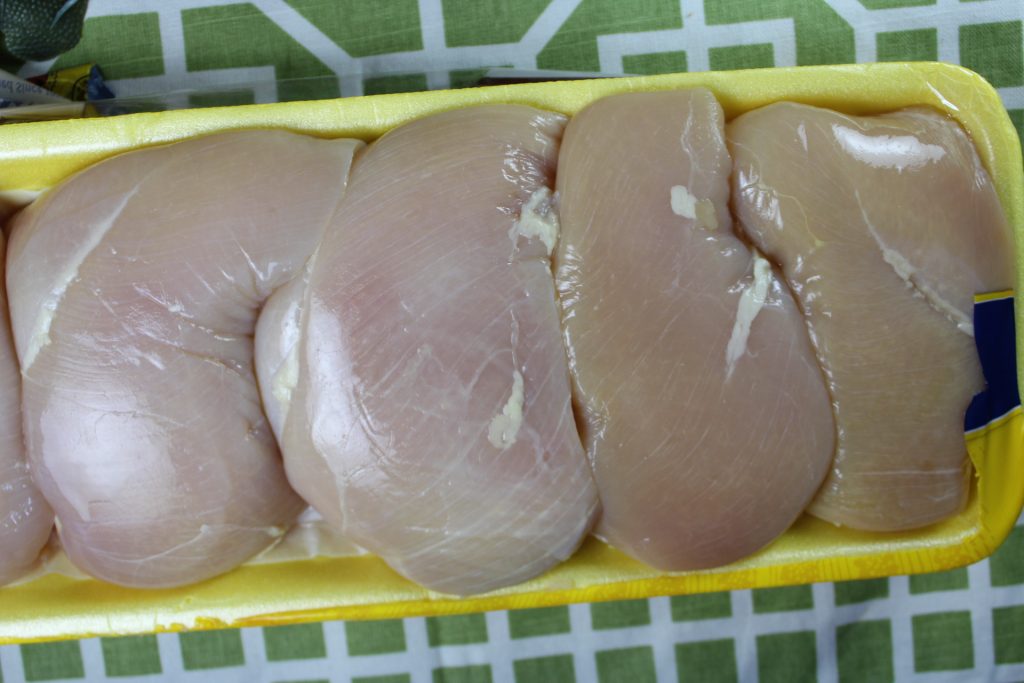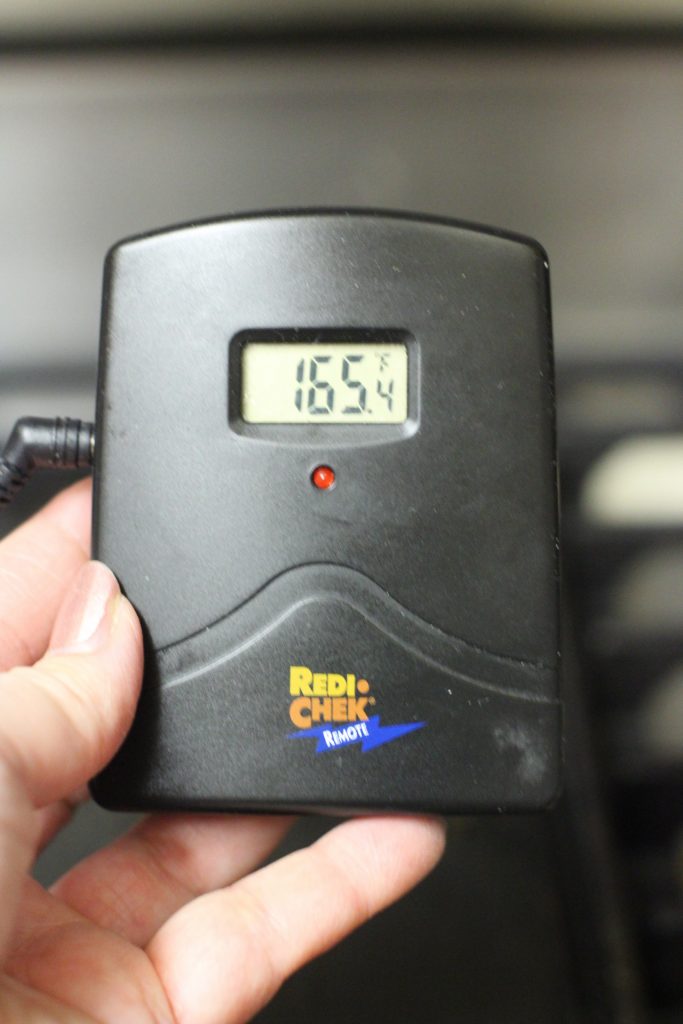 A meat thermometer is essential to cooking high-quality protein. You can get instant-read thermometers for as little as $6-7. The one displayed has a probe with a wire that connects to the monitor read-out. Its easy to watch, and some even have wireless so you can check them on an app. Makes watching tv in the other room much more do-able! Remember that the temperature on the chicken will continue to increase after it is removed from the oven, so don't hesitate to take it out at 163 or 164 degrees.  I usually plan about 1 3/4 hours for roasting.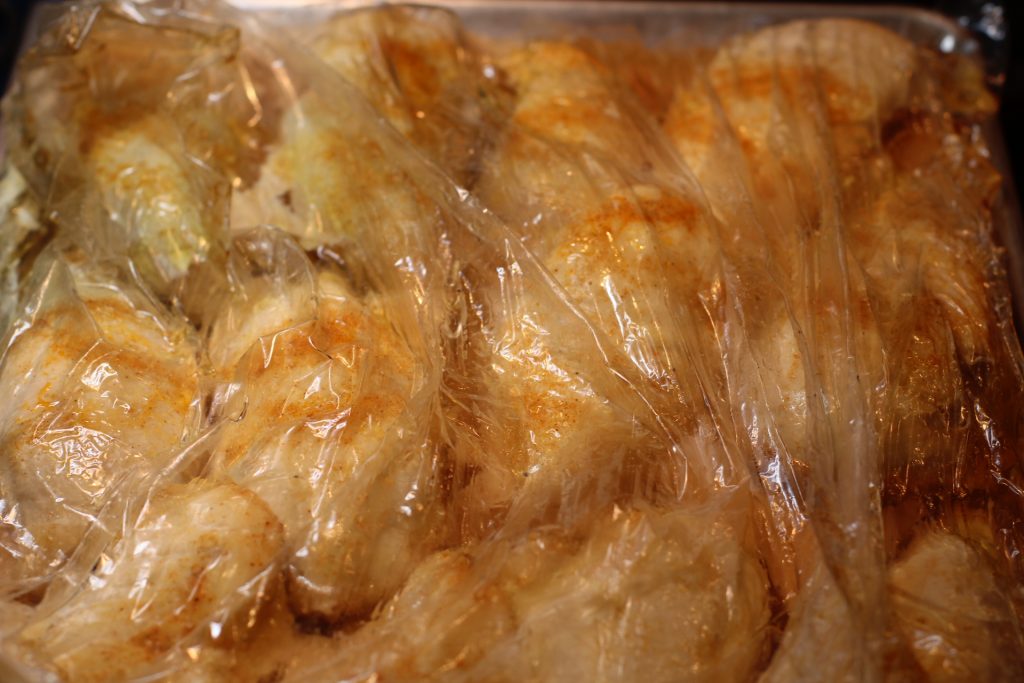 After removing the cooked chicken  from the oven, let it rest in the juices for about an hour without opening the bag.  then carefully pour the juices off .  They will still be hot, so be careful.  If you just clip off the corner of the cooking bag, it is fairly easy to control the juice as you pour it off.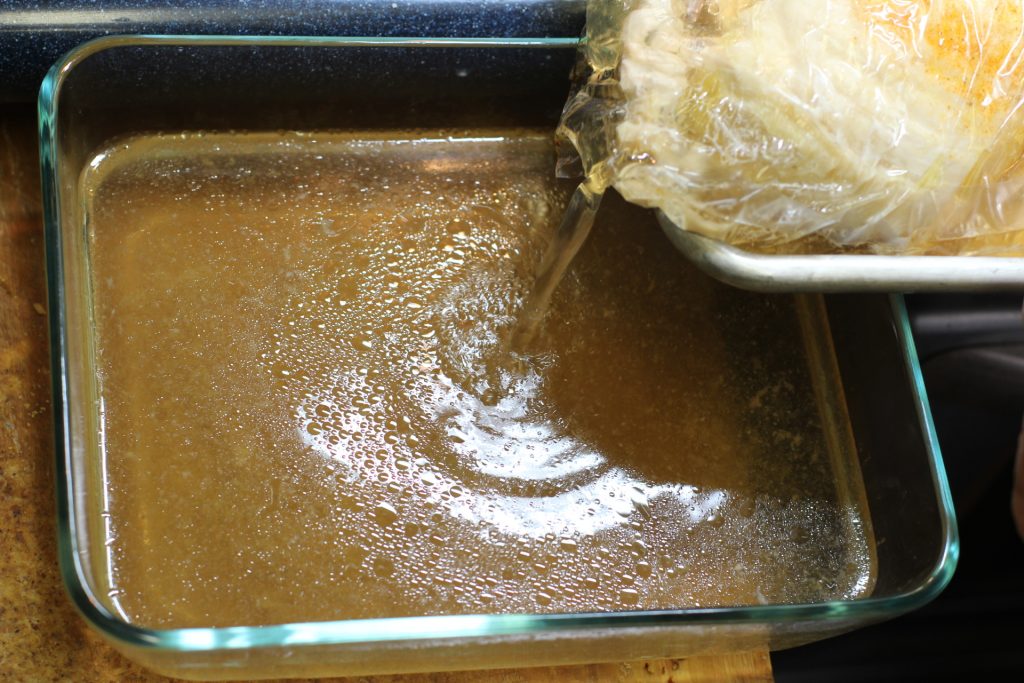 Remove the cooked chicken breasts to a cutting board to slice or dice.  The objective is to try to retain as much of the internal moisture as possible.  The cooking bag limits the moisture loss due to evaporation and also makes cleanup a breeze!!
Chicken can be sliced or diced to be used at your convenience.  (Click on any photo to see a carousel of images)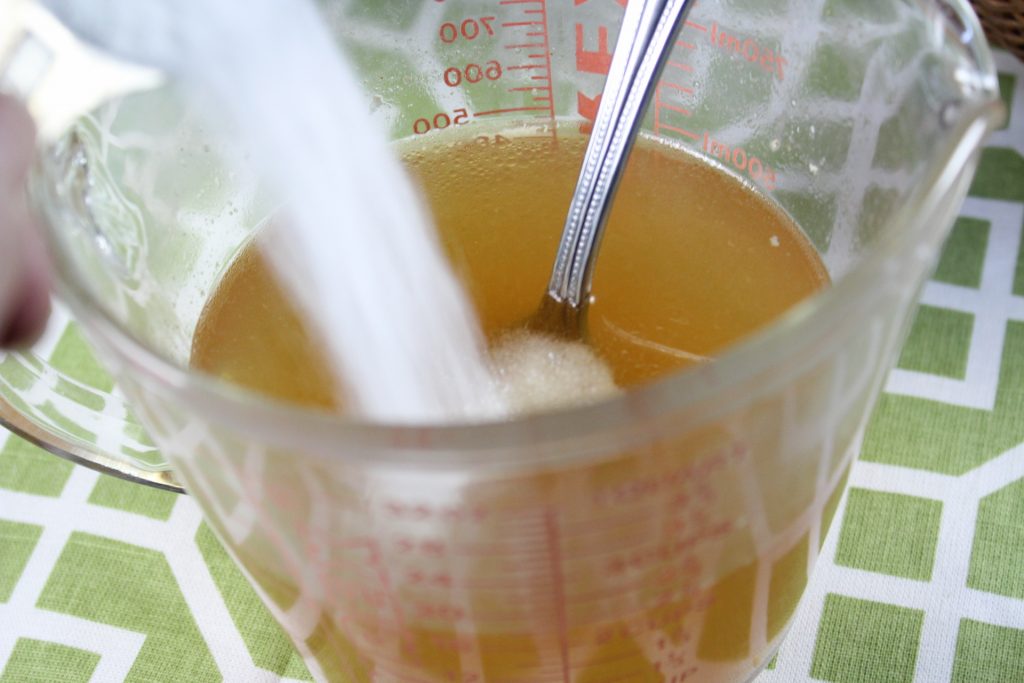 In order to keep the chicken moist and protect it from freezer burn, the juices that cooked out will be added back to the chicken.  Adding 2 T. Ultra Gel® to each cup of the collected chicken drippings will add just enough thickness to allow it to adhere to the diced chicken, providing extra flavor, moisture, and protection.  Stir it in gradually and let stand a few minutes to thicken.
Pour the thickened chicken broth over the diced/sliced chicken. You may not want to use all of the thickened juices--Start with half, then see how much the chicken absorbs.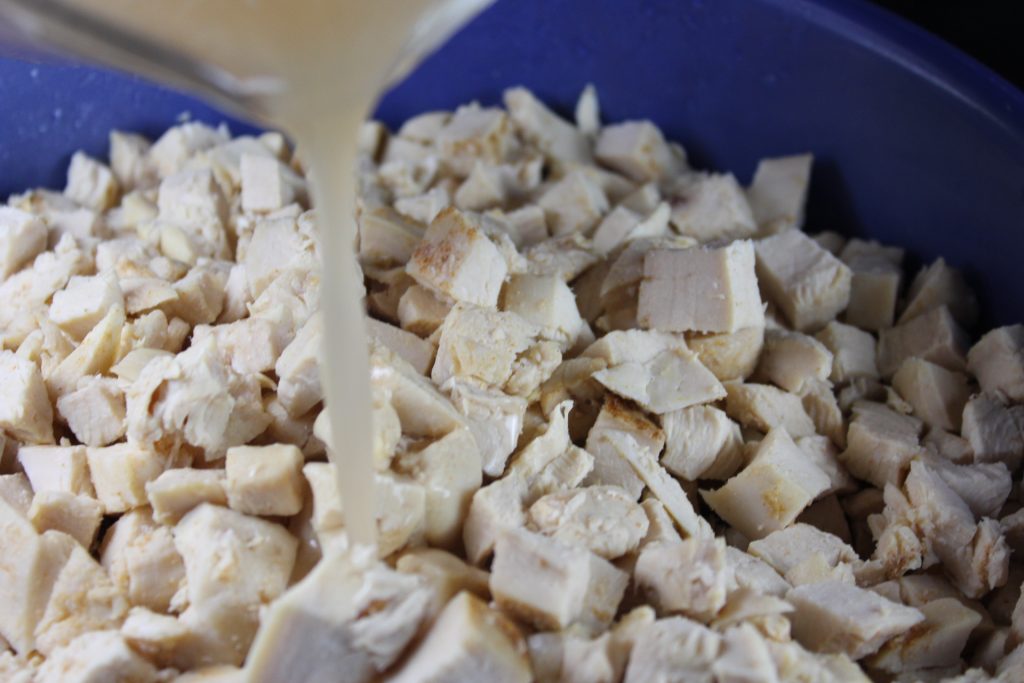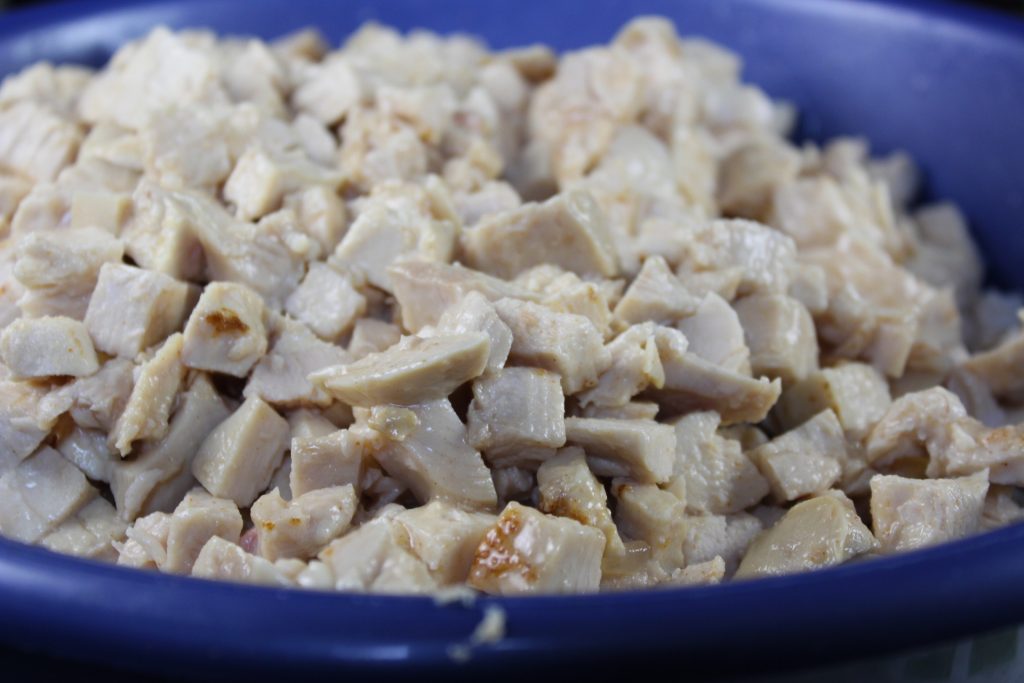 Toss the chicken gently with the liquid. Remember, you're just adding back the juices that cooked out. If you were starting from raw chicken, these juices would be a part of your finished product!
Moist and juicy chicken!!
Divide the chicken into ten bags (or one bag for each pound of raw chicken you started with).  Most recipes call for a multiple of one pound of raw boneless, skinless chicken breast, so if you start with ten pounds of chicken and divide the finished product into ten bags, each bag will be the equivalent of one pound of raw chicken. Make sense?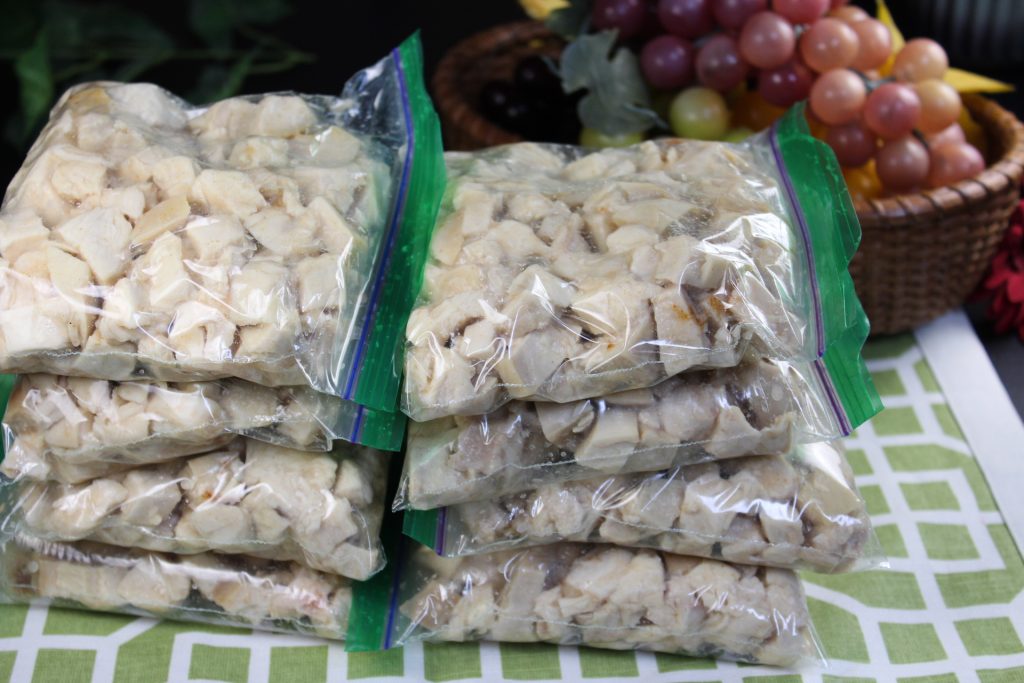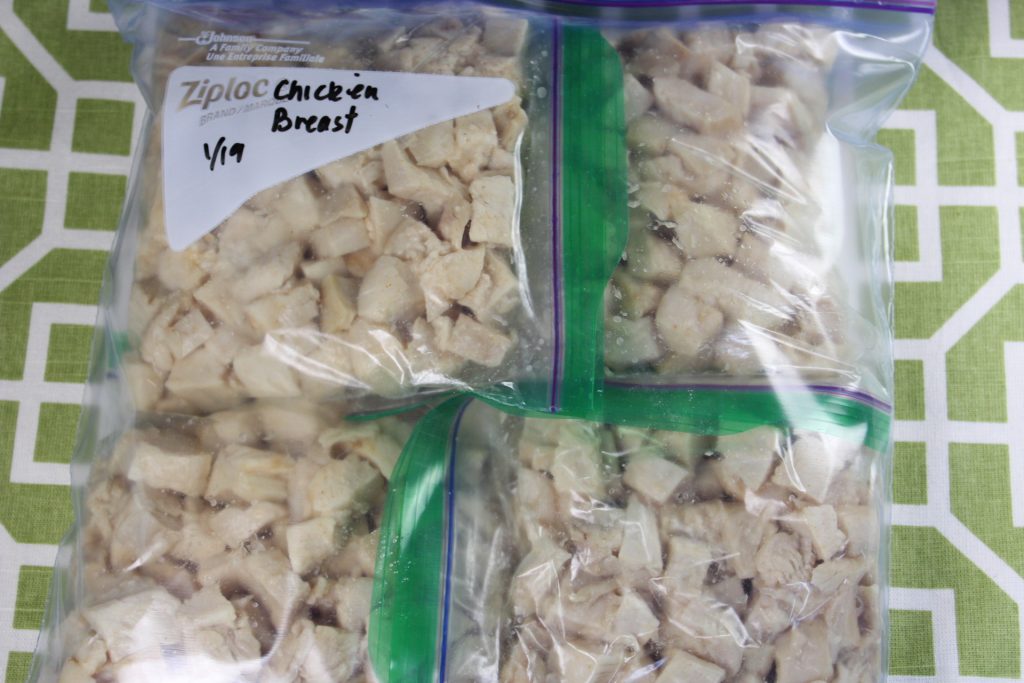 I use sandwich bags for portion control--Gallon freezer bags for protection. They are flat and stack nicely after freezing.  Each bag will have about 2 cups of cooked chicken.
Here's an easy idea--prepare a boxed Fettucini Alfredo, add a package of chicken chunks and some bacon for garnish.  Thirty minute wonder at our house!  Nice, meaty chunks of chicken give extra crowd appeal!
Lots more great recipes using Meal Prep chicken coming--stay posted!