Ultra Gel is an instant thickener made from a waxy variety of corn. It disperses easily and provides a sheen, clarity, and smoothness to products it is used in. Try it in soups, sauces, and gravies, fresh fruit desserts, baked items, and diet-specific foods.
Starches like Ultra Gel™ are used commercially in an incredible number of applications. Modified food starches make gravies, soups and sauces smooth and attractively colored. Ultra Gel™ will not add color to your food; it becomes clear as it thickens.
Sauces made with Ultra Gel™ will not set up or separate like traditional cornstarch-thickened sauces. You can truly enjoy refrigerated or frozen meals made to your family's exacting standards! And because you make it fresh, you can avoid the additives and preservatives essential to commercially prepared products.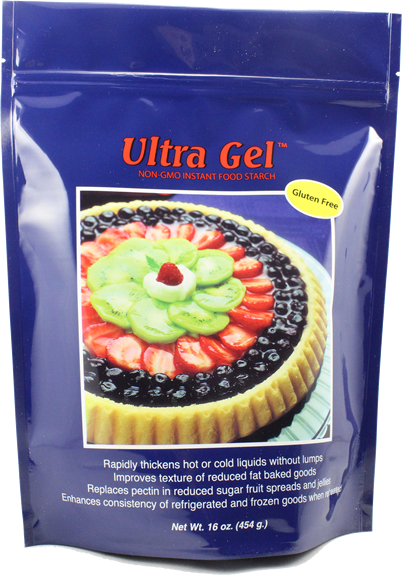 If you like the idea of mixing a thickener into soups, gravies or sauces straight from the container without having to make a "thickening" that may or may not be smooth, Ultra Gel™ is for you.
If you like the flexibility of being able to adjust the thickness of a product at any point of preparation, Ultra Gel™ is for you.
Too thick? Add a little more liquid. Too thin? Add a little more Ultra Gel™.
Ultra Gel™ is a real boon to those who are concerned about health. It improves the texture of many reduced-fat products and allows "jams" to be made with very small amounts of sugar. It is particularly well suited for instant fruit glazes and fresh fruit pie fillings.
Ultra Gel™ will begin to swell as soon as it is added to liquid, so the starch granules must be dispersed to prevent lumping. Be sure to add Ultra Gel™ gradually, stirring with a wire whisk. You don't need to remove vegetables or meat first. If it looks like lumps are forming, keep stirring! They will usually stir out. Next time add the Ultra Gel™ a little slower.
For better results, add Ultra Gel™ before hot liquids reach a boiling temperature. Ultra Gel™ disperses easier in cooler liguids.
UtraGel™ Conversion Guidlines
Gravy: 2-3 T. Ultra Gel™ per cup of broth Dessert Topping: 3 T. Ultra Gel™ per cup of liquid Pie Glaze: 4-5 T. Ultra Gel™ per cup of liquid 1 T. cornstarch = 1 1/2 T. Ultra Gel™ 2 T. flour or Tapioca = 1 1/2 T. Ultra Gel™
UltraGel™ Nutrition Facts
Serving Size: 1 T (4g) Servings per container: 81 (apprx. for 11.7 oz container)

---

Amount per serving
Calories 15
Calories from Fat 0

---

% Daily Value*
Total Fat 0.5g
0%
Sodium 10mg
0%
Total Carbohydrate 4g
0%
Protein 0g
0%

---

* Percent Daily Values are based on a 2,000 calorie diet
Ingredients:
 Modified Food Starch (Waxy Maize)

Ultra Gel offers quality and convenience in so many ways! See how Ultra Gel can make your life easier!