Need an easy meal for a large group? This recipe can easily be multiplied and is sized for commercial foil pans. It can also be frozen to bring out for a busy day.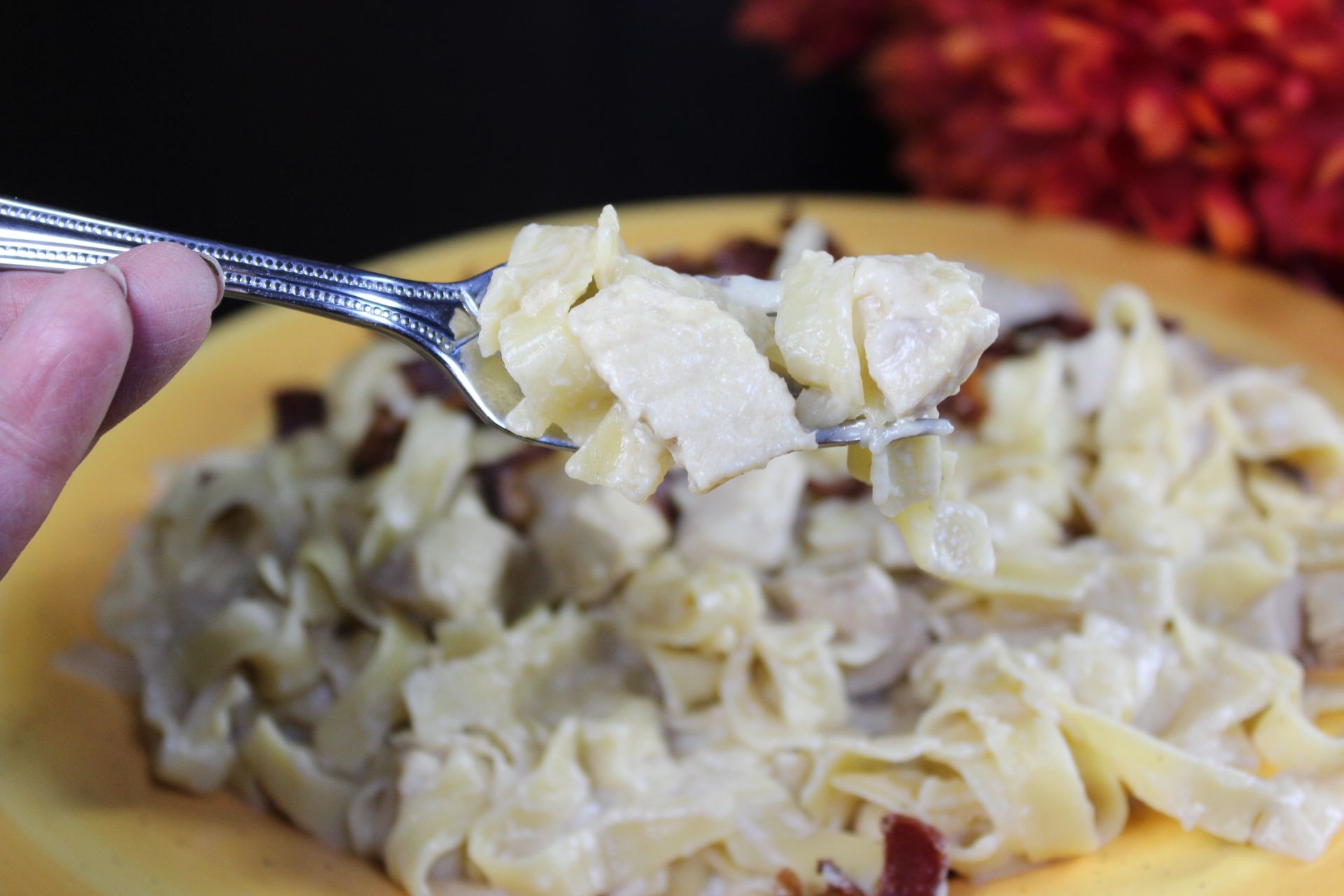 Ingredients
1 lb good quality fettucini pasta
1/4 c. (1/2 cube) butter
4 generous teaspoons minced garlic (bottled with water and phosphoric acid)
2 c. chicken broth
1 c. water
1 1/2 lb. cooked chicken pieces
2 c. milk
3/4 c. Ultra Gel
1 8 oz package cream cheese, room temperature, cut into cubes
1 c. shredded fresh Parmesan cheese (in refrigerated section)
1 c. heavy whipping cream
Instructions
Cook pasta according to package directions, salting the water liberally. Be careful not to overcook--if the pasta absorbs too much water, the pan will be too full! And the pasta will be soggy.
While the pasta is cooking:
Melt the butter--add the garlic and saute until fragrant.
Add the chicken broth and water
Add the chicken and allow to simmer for ten minutes. Remove chicken and reserve
Add milk to broth, then stir in Ultra Gel gradually with a wire whisk.
Add cream cheese and cook slowly until melted.
Add Parmesan cheese and stir until melted, then stir in cream.
Season to taste with salt and pepper if desired. Be careful about adding more salt, as the pasta will be salted.
Layer ingredients in 9 x 13" glass casserole dish or commercial foil pan, starting with a little sauce, then 1/2 pasta, then 1/2 chicken, then 1/2 of remaining sauce, remaining pasta, remaining chicken and finishing with sauce
Cover with foil if using a 9x13" pan or foil lid if you're using a foil pan and seal tightly.
If serving immediately, bake at 325 for 1 hour. If cooking later, refrigerate, then cook slowly at 300-325 degrees for about 2 hours. Be careful about using a higher heat as the sauce can easily scorch.
NOTE: If you use a foil pan you might want to bake on a cookie sheet for easier handling.
7.8.1.2
45
https://carnetfoods.com/easy-chicken-alfredo/