Nobody needs a "go-to" meal more than the gluten-free eater--the budding athlete that comes home from football practice famished, the college student who is always on the run, the harried mother of young children who just doesn't have the energy to cook one more complicated dish, or anyone who needs a "fill-in" meal when whatever a group has planned just doesn't fit into the gluten-free lifestyle.  And this gluten-free Macaroni and Cheese is so good that you'll never feel deprived!  One bowl, 9 minutes, and pantry-friendly ingredients makes this a meal you'll go back to time and time again!
Yields 2 servings
One-Bowl Super Creamy Gluten-Free Mac and Cheese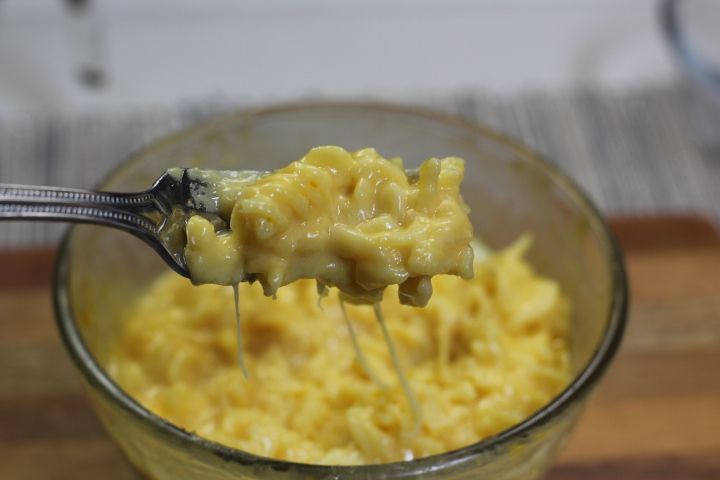 Ingredients
1 cup gluten-free pasta (tested with Barilla rotini)
1 cup chicken broth
1/2 cup evaporated milk or half and half
1 cup grated cheese (see text below for suggestions)
1 Tablespoon butter
2 Tablespoons Ultra Gel
Salt and pepper/Seasoning salt to taste
Instructions
Combine chicken broth with pasta in a microwave-safe bowl with a capacity of at least 1 quart (the liquid needs room to boil)
Cover bowl with loose-fitting lid or plastic wrap, leaving a vent.
Microwave at full power for five minutes. (Tested in a 1250 watt microwave)
Allow to carry-over cook for two minutes while gathering additional ingredients.
Add evaporated milk/half and half, grated cheese**, butter, and Ultra Gel to cooked pasta and stir.
Return bowl to microwave for 1 minute on high power.
Stir to blend ingredients.
Enjoy!
7.8.1.2
46
https://carnetfoods.com/one-bowl-super-creamy-gluten-free-mac-and-cheese/
A note about cheese:  Pre-grated cheese is fabulously simple, but you'll never get the silky smoothness of a sauce made from cheese you grate yourself.  The manufacturers use powders to keep the grated cheese from sticking together and they don't melt well.  Just saying . .   Also--about cheese choice:  I like a good sharp cheese for tons of flavor, but if you like a mild flavor with lots of stringy goodness, a mild cheddar might be your preference.  The gooey-ness comes from a cheese high in fat, like mozzarella.