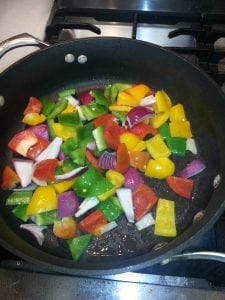 Sweet and Sour Meatballs – Skillet Ready Quick!
Ingredients
1-20 oz can pineapple chunks, drained (reserve juice)
Water (add to reserved pineapple juice to make 2 c)
1/2 c. sugar
4 T. soy sauce (watch ingredient list for gluten-free)
4 T. vinegar
1/2 c. ketchup
8 T. Ultra Gel (Amazon Prime, carnetfoods.com, or check your local grocer)
1 lb frozen meatballs (fully cooked)
1-4 oz can water chestnuts, sliced
2 green/red/yellow peppers, cut in chunks
1 c. red onion pieces if desired
Instructions
Brown the frozen meatballs in a large heavy skillet, shaking or stirring occasionally until hot all the way through.
For the sauce, combine the 2 c. pineapple juice/water, sugar, soy sauce, vinegar, and ketchup and stir to combine. Add Ultra Gel slowly while stirring with a wire whisk.
Remove the meatballs from the skillet (do not wash), heat the skillet until very hot (no additional oil should be necessary), and add the pepper chunks and onion if desired. Stir and cook until crisp-tender. Don't over cook or you'll lose that great color! Add the thickened sauce, the browned meatballs, the water chestnuts and the pineapple chunks and cook briefly until warmed all the way through. Serve with rice for a real flavor treat!
Kitchen hack - drain the pineapple into a 4 cup measuring cup. It will be easy to add water to make 2 cups, then continue adding the sauce ingredients, including the Ultra Gel. Only one implement to wash!
About meatballs: There are many frozen meatballs available. The "homestyle" varieties have a neutral, meaty flavor, but I used the "Italian" variety when it was all I had and was pleasantly surprised at the results in this recipe. Of course, homemade is great. If you make the meatballs from scratch, try browning them in the oven to minimize breakage.
7.8.1.2
9
https://carnetfoods.com/sweet-and-sour-meatballs-skillet-ready-quick/