Here is a low-cal any-weather soup that is so satisfying you will make it again and again. I think it has just the right amount of heat--even my most wary family members eat it with gusto (and corn chips) and the more adventurous add a little cayenne. And although it looks like it has alot of ingredients, in truth it is a "dump" recipe--where full cans of ingredients are used. Don't you hate recipes that call for odd amounts of canned ingredients, leaving you with bits and pieces in your refrigerator which often are wasted? This recipe seems big, but it goes to work nicely for lunch, or even freezes for a quick meal on a future day.
Southwest Chicken Soup- Don't Cook your Chicken to Death!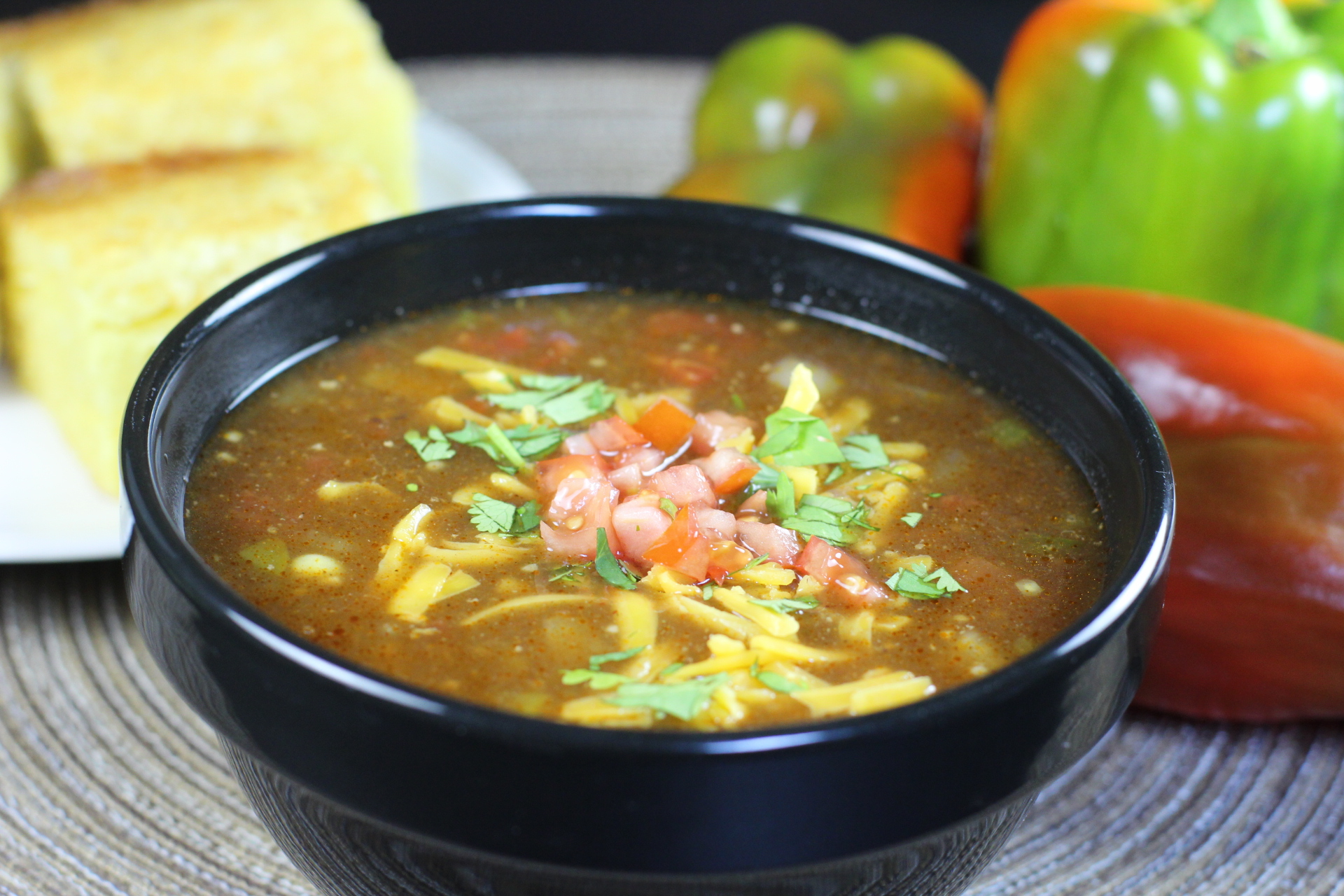 Ingredients
2 T. vegetable oil
2 lb. chicken breast cut in 1" cubes
1 T. chile powder
1 1/2 t. ancho chile pepper
2 t. cumin
1/2 c. green pepper, diced
1/2 c. onion, diced
4 t. minced garlic
1/2 t. ground black pepper
1-10 oz can diced tomatoes and green chiles (Rotel is good)
2-15 oz cans black beans, drained
1-15 oz can corn, drained
1-15 oz can tomatoes, diced
4 c. chicken broth
1/2 c. Ultra Gel®
Instructions
Heat the oil to shimmering in a heavy dutch oven. Add the chicken and brown on all sides on a medium high heat, then continue to cook until no pink remains. Remove the chicken pieces to a bowl and reserve.
Add the chile powder, the ancho chile pepper, and the cumin to the pan and stir while continuing to heat until the seasonings are fragrant.
Add the green pepper, onion, garlic and black pepper to the seasonings and stir until the vegetables are crisp-tender.
Add the diced tomatoes and green chiles, drained beans and corn, the diced tomatoes and the chicken broth and stir to combine. Then add the Ultra Gel® gradually while stirring with a wire whisk.
Bring the ingredients to a boil, then add the browned chicken pieces back to the soup and serve.
Corn chips are a nice accompaniment, and cheese, tomato, and sour cream are welcome garnishes.
7.8.1.2
28
https://carnetfoods.com/southwest-chicken-soup-dont-cook-your-chicken-to-death/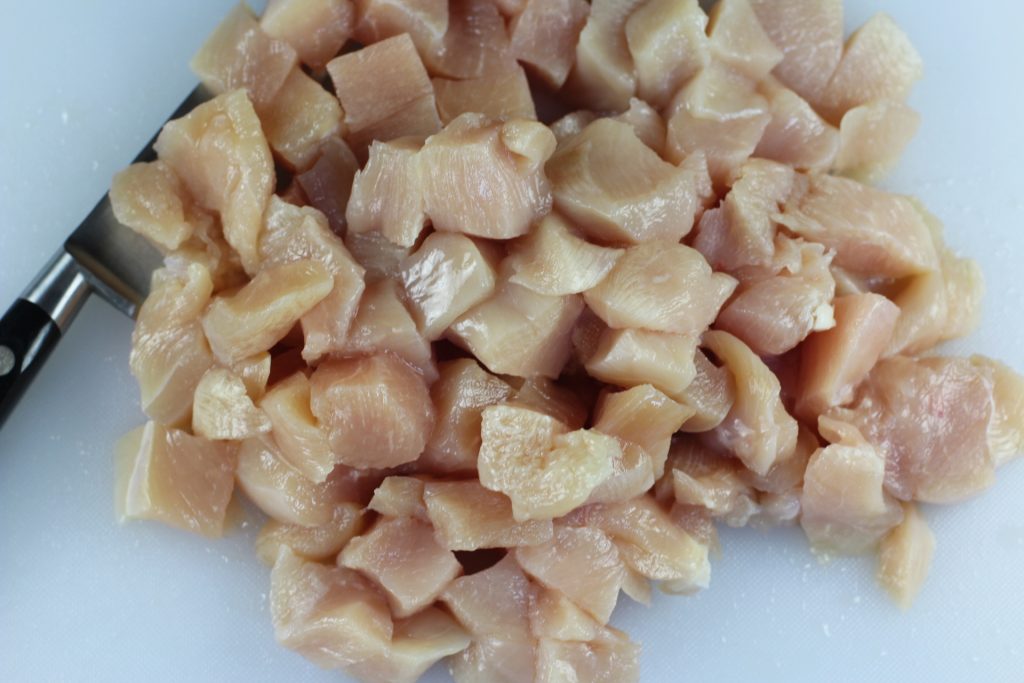 First, cut the chicken into cubes.  You may need to trim it a little but this isn't hard work.  Just a hint:  If you get jumbo breasts (the kind that are usually on sale for the best price), each lobe of the chicken breast will be roughly one pound.   Hate cutting up chicken breasts?  Just cut straight through into about 1 inch slices, then turn them on their sides and cut again if needed.  Really--it's fast. . .
Heat the oil, then add the chicken pieces and stir  while cooking untill all pieces are cooked all the way through and no pink remains.  Then remove the chicken pieces to a covered bowl for later use.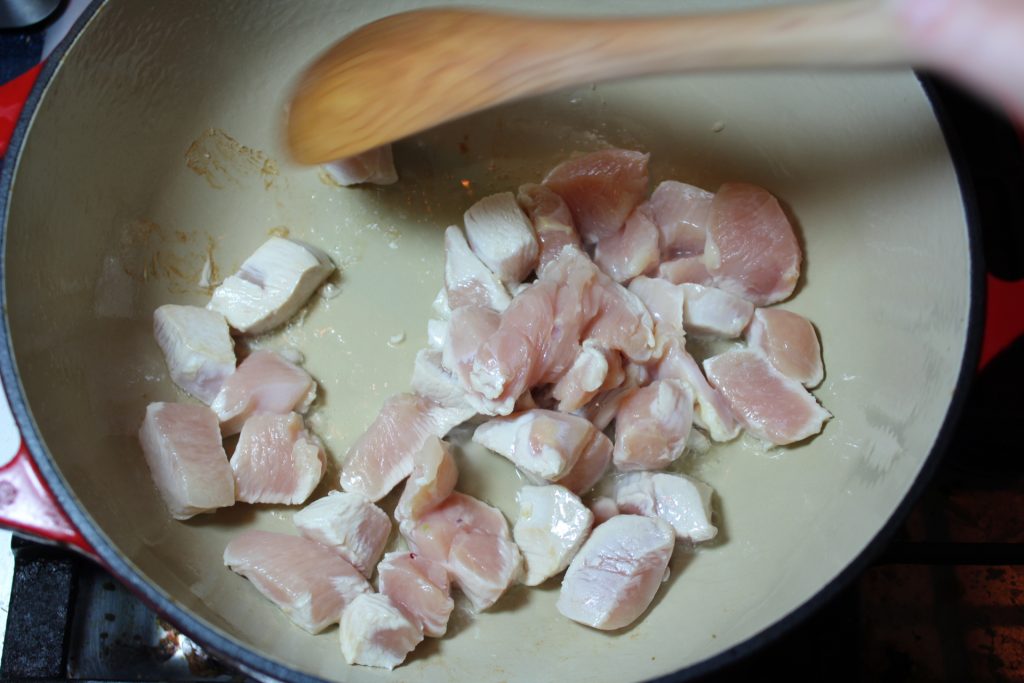 And here is where I get on my soapbox and preach the virtues of not overcooking chicken!!  The old days of killing the tough old red rooster and cooking it all day for chicken soup are gone.  The chicken most commonly available in supermarkets comes from chickens that are between 6 and 8 weeks old.  The breast is tender and easily overcooked.  Think of an expensive pieces of tender beef steak--would you cook it for hours on end and expect a tender, juicy product?  When cooking chicken, cook to a safe temperature (165 degrees), then serve for juicy, flavorful meat. (As a disclaimer, I like dark meat cooked to 170 degrees).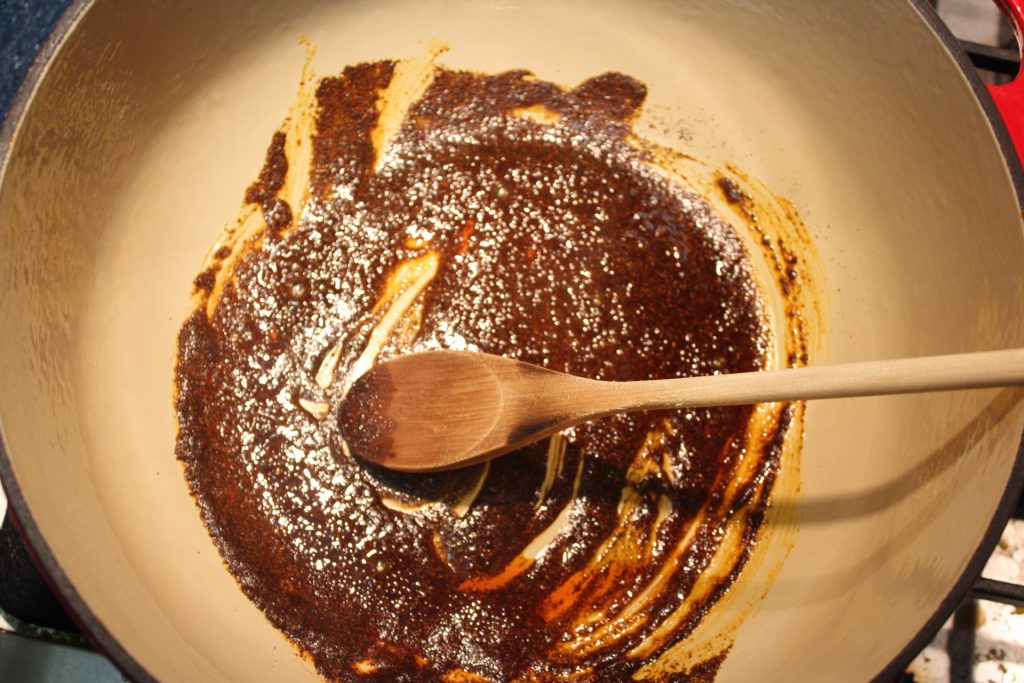 Add the chile powder, chile pepper, and black pepper to the pan.  Don't wash the pan first--those flavorful chicken bits will add flavor!  Heat until the chiles are fragrant.
Just a note on chile pepper vs chile powder--don't get these confused!!  In the US, chile powder is a combination of dried, ground chile peppers with paprika, onion, and other flavorings.  It is quite mild and recipes frequently use substantial amounts.  Chile pepper will have only the dried peppers.  There are many different chile peppers with different flavor profiles--you may want to have several.  The secret is to check the ingredient statement before purchasing a powdered chile product to get an idea of how potent it is.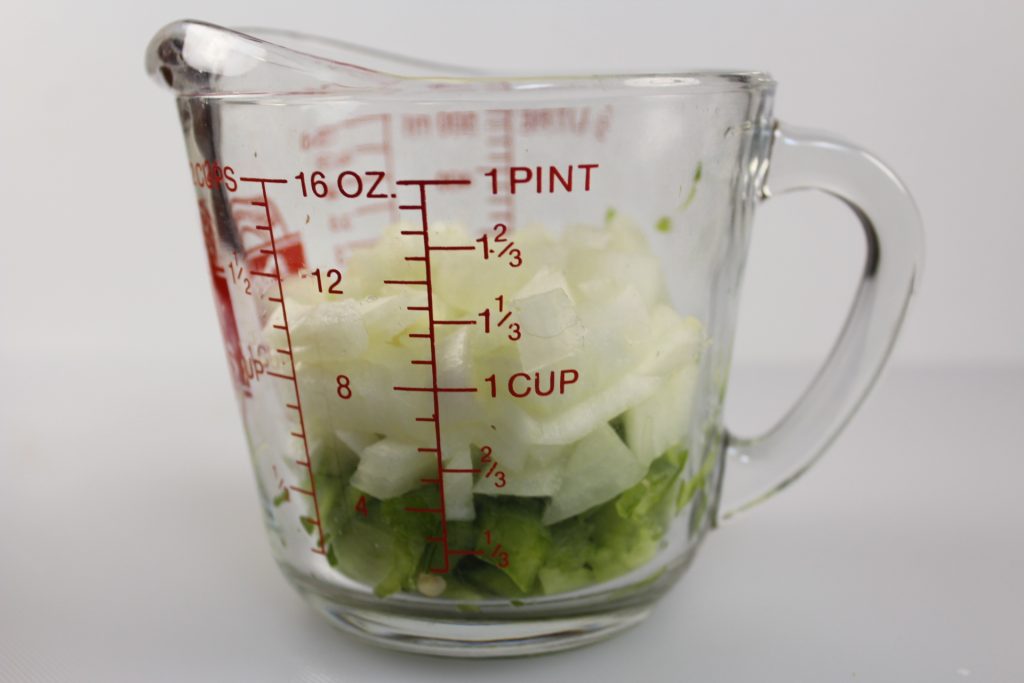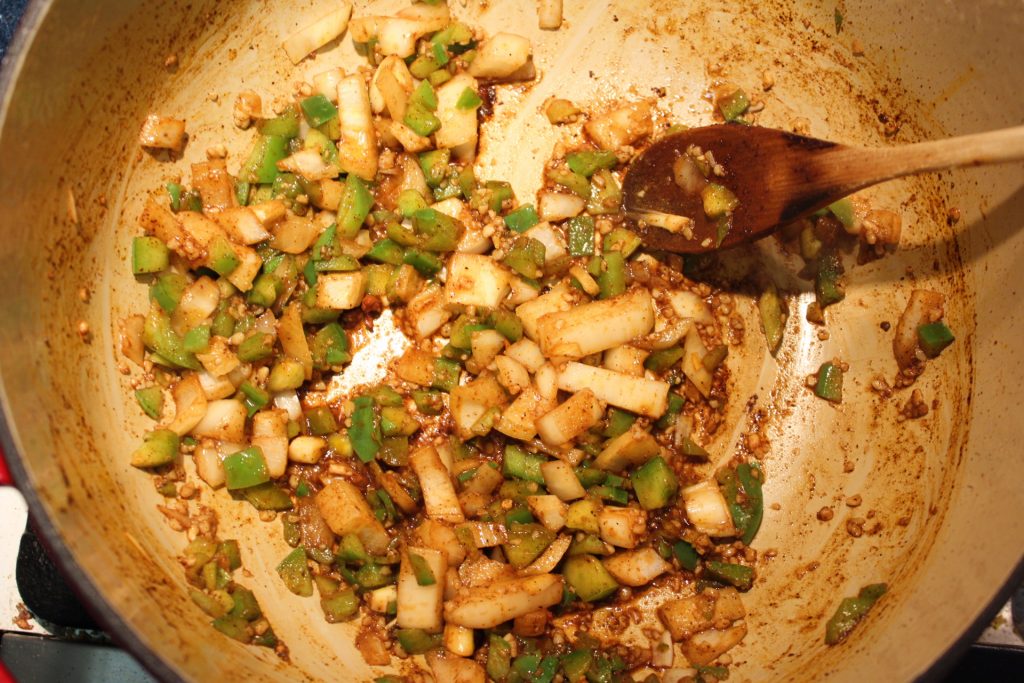 Add the green pepper, onion, garlic, and black pepper to chile seasonings in the pan and stir over medium high heat until the vegetables lose their crispness.  Add an extra tablespoon of oil if the mixture is too dry.
Add all of the canned goods to the vegetables, then add the chicken broth.  Stir in the Ultra Gel® with a wire whisk and heat the soup to boiling.
Add the chicken back to the boiling soup and cook for 2 or three minutes to heat the ingredients evenly and blend the flavors.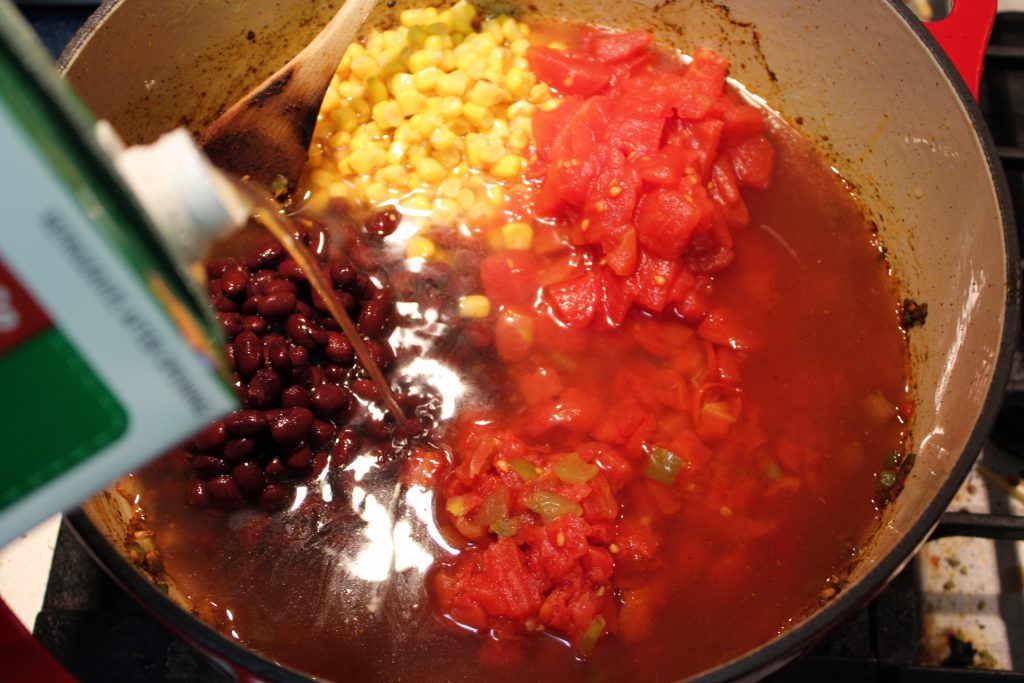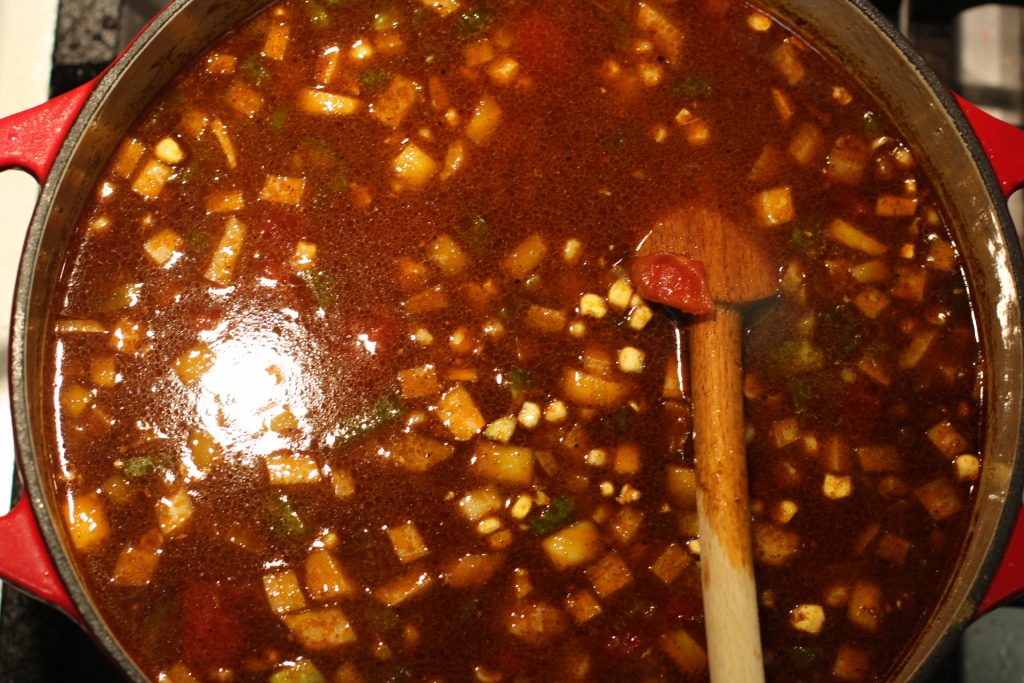 Rich and delicious!  The Ultra Gel® gives the soup some body--The vegetables and meat don't sink to the bottom.  Perfect quick meal for a chilly day--or any day!
Incidentally, you can make this soup even faster by using pre-prepped chicken (see World's Best Meal Prep Chicken https://carnetfoods.com/?p=1175 ).  A package of frozen, pre-prepped chicken can be microwaved for about a minute, then added to the soup at the last step.  Best ever!!