Peach Pie--life doesn't get better than a cool fall evening and warm peach pie and ice cream shared with friends.  The glory of peach pie is the syrupy richness of the sweet, thickened juices of the ripe peaches, but that's also part of the drama of peach pie.  Because ripe, flavorful peaches are so juice-filled, as they heat during the baking process those juices are released. Traditional thickeners--flour and cornstarch don't thicken until the juices get to boiling temperatures.  And that can create two problems:  1) The bottom crust can become soggy from all that juice, and 2) The juice can boil out through the slits in the top, creating a very smelly mess on the bottom of the oven and a pie that isn't very pretty.
The secret to "Perfect Peach Pie" is using Ultra Gel® as a thickener.  It is an instant starch, which means when that yummy peach juice is released, it is immediately thickened, ensuring a crisp crust and no boil-out.  And a presentation you can be proud of!!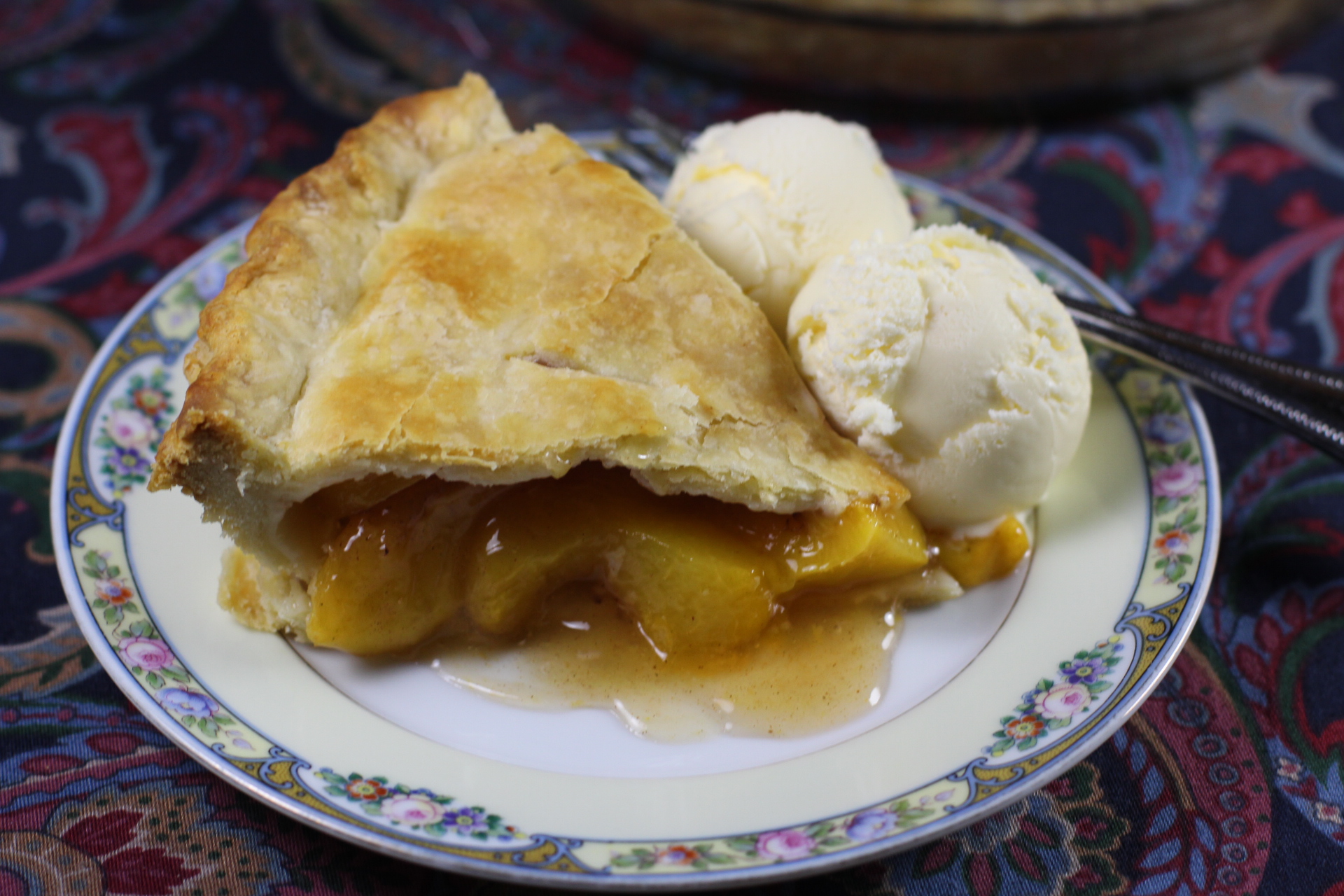 Ingredients
4 c. fresh peaches, peeled and sliced
2 T. lemon juice
1 t. vanilla or 1/2 t. almond extract
1 c. sugar
6 T. Ultra Gel® (www.carnetfoods.com or Amazon-search for "Ultra Gel Super Sale" for sale prices.
1/2 t. cinnamon
Double crust for 9" pie
Instructions
Add the lemon juice and flavoring to the peaches.
Combine the sugar, Ultra Gel® and cinnamon in a separate container and mix together.
Add the sugar mixture to the peach mixture and shake or stir gently until well combined.
The mixture shouldn't be dry. If it doesn't look like the photo below, add a couple of tablespoons of water.
Turn the mixture into a pastry-lined 9" pie plate.
Add the top crust, crimp the edges, and carefully cut slits to let the steam escape.
Brush the top crust lightly with milk for nice browning.
Bake in an oven preheated to 425 for 15 minutes, then turn down to 350 for another 30-40 minutes.
7.8.1.2
16
https://carnetfoods.com/perfect-peach-pie/