Some sources say a cobbler uses a biscuit-type topping where a "crisp" or a "crumble" uses a streusel-type topping.  If that is the case, this recipe qualifies as a crisp.  But terminology varies from region to region, so both names are in the title for searching purposes.  But it doesn't really matter what it's called--the whole concept of sweet, thickened fruit juice bubbling up through a crispy topping (ultimately with a scoop of vanilla ice cream) is one of the best desserts ever. So easy and SOOO delicious!  And in this recipe the Ultra Gel® thickens the peach juices as they are released, so no messy boil-over.  And the topping stays crisp because the filling is already thick when baking takes place.  Lovely and glossy. . Tastes as good as it looks!
Peach Crisp with Blueberries (Peach Cobbler?)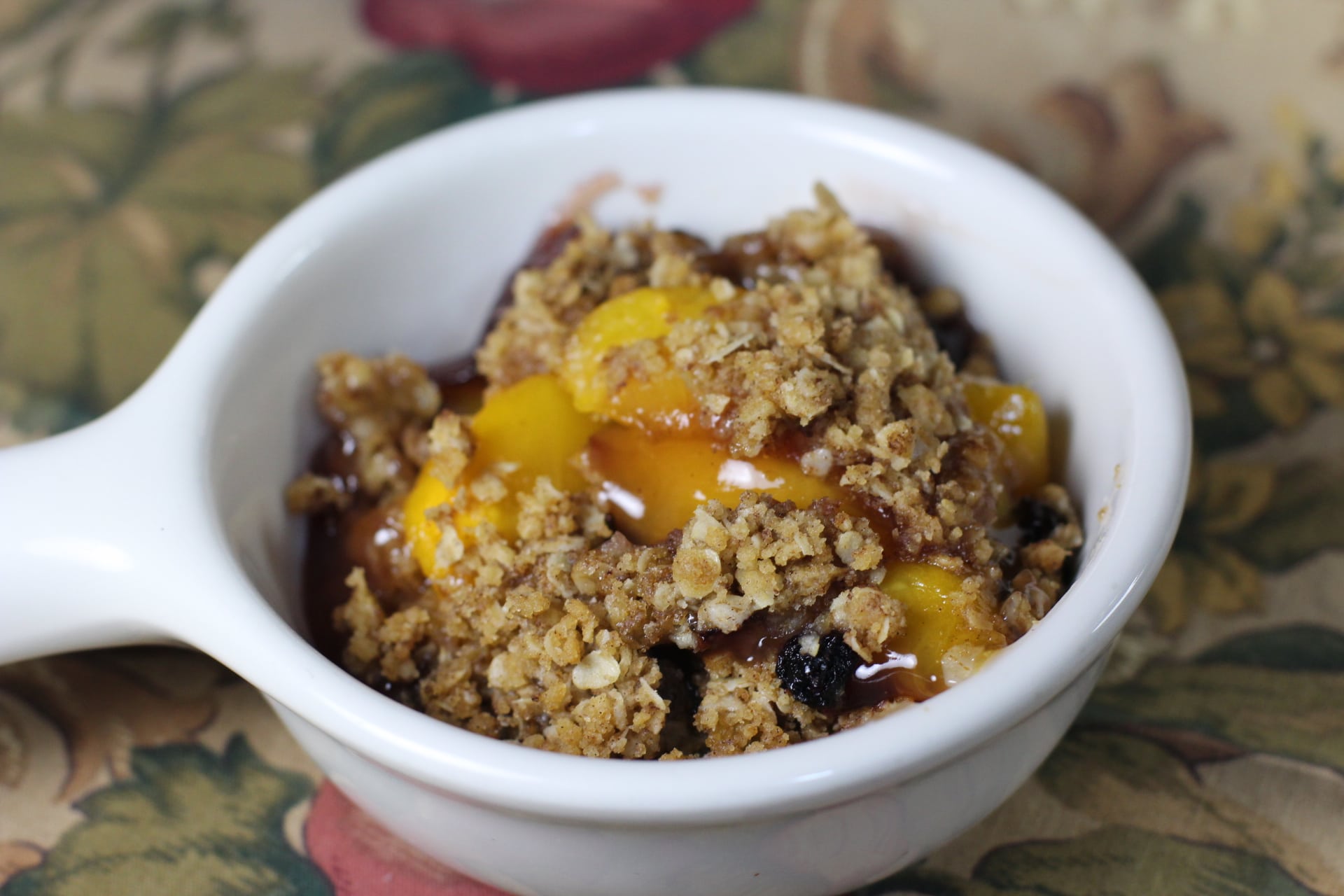 Ingredients
Fruit Filling

5 c. peeled, sliced ripe peaches
2 c. blueberries (frozen are ok)
2 T. lemon juice (bottled is ok)
1 c. sugar (add 1/4 cup more if peaches are tart)
1/2 c. Ultra Gel® (www.carnetfoods.com or Amazon-search "Ultra Gel Super Sale" for best prices

Crumb topping

1 c. quick oats
1 c. flour
1 c. brown sugar (firmly packed)
1/4 t. baking powder
1/4 t. baking soda
1/2 c. butter, melted
Instructions
For the filling: Combine the peaches with the blueberries if desired. If not, use 7 c. peaches. Add the lemon juice and stir gently. Combine the sugar with the Ultra Gel and mix, then add to the peach mixture, mixing lightly to combine.
Turn the fruit into a 9x13" baking dish. (It will start to thicken.)
Combine the quick oats, flour, brown sugar and melted butter and mix lightly until well combined. Sprinkle it on top of the fruit filling.
Bake at 350 degrees for about 45 minutes or until thickened juice bubbles around the outsides and through the topping.
Serve warm.
7.8.1.2
15
https://carnetfoods.com/peach-crisp-with-blueberries-peach-cobbler/