Here's a quick and easy orange chicken recipe that makes your kitchen smell like heaven!  You might want to start the rice before you start the recipe so they'll both be ready to serve at the same time.
Carma Christensen
Yields 12
Orange Chicken – Quick and Easy
Ingredients
2 lb boneless skinless chicken thighs
2 T. vegetable oil
1 t. fresh ginger, minced
1 t. garlic, minced (or used
1-2 T. chile paste (ie Sambal Oelek) One T will give a touch of heat--2 will give more pronounced heat!
1 t. salt
1/4 c soy sauce (watch ingredient list for gluten-free)
1/2 c. orange juice
1/2 c. chicken broth
6 oz sweet orange marmalade
1/4 c. brown sugar
4 T. Ultra Gel® (or as needed)
Whole orange slices for garnish if desired
Instructions
Add the oil to a heavy frypan, tip to distribute, and heat to shimmering.
Add chicken thigh pieces and brown on both sides on a medium heat, leaving plenty of room between chicken pieces. Work in batches if necessary.
Remove chicken pieces to a plate. They will not be fully cooked at this point.
Don't wash the pan--the crusty bits from browning the chicken will add flavor.
Add ginger and garlic to the fry pan and cook until fragrant and softened.
Add chile sauce, salt, soy sauce, orange juice, chicken broth, marmalade, and brown sugar. Cook and stir until all ingredients are thoroughly mixed and brown sugar has liquified.
Add chicken thighs back to the frying pan with the sauce, add a lid, and cook until thighs reach at least 165 degrees. Turn the thigh pieces after ten minutes to allow the flavors to permeate both sides.This will only take about 15 minutes, as they have already been partially cooked.
Remove the chicken from the pan to a serving plate and tent with foil to keep warm.
Thicken the sauce by gradually stirring in the Ultra Gel®. Adjust to your desired thickness by adding additional Ultra Gel® for more thickness or more chicken broth or water to thin.
Pour the sauce over the meat on the serving plate.
Freeze any extras for future no-fuss meals!
7.8.1.2
7
https://carnetfoods.com/orange-chicken-quick-and-easy/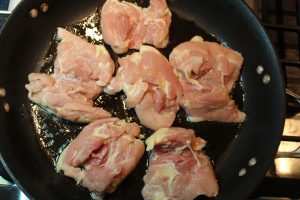 Here are a few hints--This recipe doesn't start with a lot of oil.  The dark meat will contribute more.  You might want to trim the meat a little if there are large globs of fat, but thigh is a fatty cut, which helps keep it moist.  Much of the fat will melt into the meat as it's cooked.  Don't worry if the meat seems like it might stick--if you're using a good, heavy pan and a medium heat, the meat will release from the pan as it develops a "crust".
Turn to brown both sides as the color develops.  The browning process adds flavor by a chemical reaction between the amino acids and the sugars in the meat that most people find very pleasant!  Make sure the chicken pieces are not crowded--work in batches if necessary.
Remove the browned chicken to a plate.  Don't wash the pan first--those little crusty bits from the browning add extra flavor!  But if there is more than about 2 tablespoons of oil in the pan, feel free to pour it off.  Heat the pan to medium heat and add the fresh ginger and the garlic and stir until fragrant.  Then add the chile paste, salt, soy sauce, orange juice, chicken broth, orange marmalade, and brown sugar to the pan and stir until the brown sugar is dissolved.
Add back the chicken pieces and cover with a tight-fitting lid and simmer until the chicken pieces are done all the way through (165 degrees on an instant-read thermometer), turning once to flavor and color both sides.  This will not take long, as the chicken will be most of the way cooked in the browning process.  Don't cook it to death!!
Remove the chicken pieces to a serving platter and tent with foil to keep warm.  Meanwhile, thicken those lovely juices!  Here's the magic--The simmering process can leave different amounts of liquid depending on how hot the heating unit is, the amount of time the heat is applied, and the thickness of the pan and lid (more evaporation will occur if the pan and lid are not as heavy).  This can create a problem when thickening with traditional cornstarch, as it is highly dependent on the amount of liquid to starch.  But Ultra Gel® used as a thickener is very flexible.  Add it gradually while stirring, one tablespoon at a time, until the sauce is the desired thickness.  Be sure to wait about a minute between additions to give the Ultra Gel® a chance to fully thicken.  Pour the thickened sauce over the chicken pieces on the serving platter serve, spooning sauce portions over the meat and rice.  Queue for applause.  .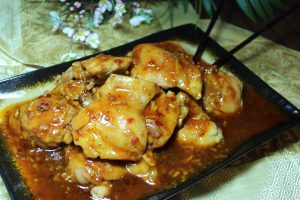 I've been asked if boneless, skinless chicken breast pieces can be used and the answer is an enthusiastic Yes!  Thighs are by nature more forgiving for long cooking and naturally more juicy, but chicken breasts can be impressive, too.  Just remember not to cook too long.  Chicken breasts are at their most juicy and flavorful at about 160 degrees (internal temperature).  Long cooking just makes them tough and dry.