Love seeing those luscious bits of sun-ripened strawberries on newly-baked bread?  Love the fresh taste of freezer jam?  Love tasting the fruit rather than sugar?
Standard freezer jams are made from crushed fruit combined with pectin and massive amounts of sugar.  The recipe has to be followed exactly, because if the sugar is reduced, the jam won't set up, which causes a lot of frustration for health-conscious parents.  Chemically, there is a complex relationship between fruit, acid, pectin, and sugar to form the fruit gel we call "jam".
The issue of low-sugar jams can be approached from a different angle using Ultra Gel®, an instant thickener which has been used for many years to thicken fruit purees.  Since Ultra Gel® provides thickening without sugar, the jam-maker has full control over how much and what kind of sweetening is used, including sugar substitutes.
According to the FDA's definition, "jam" requires pectin.  Thus, Ultra Gel®-thickened gels are designated "fruit spreads".  But most people can't tell the difference between a pectin jam and a fruit spread, and the cost savings and ability to adjust the sugar are worth making a change.  And as a bonus--the recipe can be doubled or tripled, so the project goes super-fast!  And your family will love seeing the fruits of summer all year long!
Low Sugar Strawberry Freezer Fruit Spread (Jam)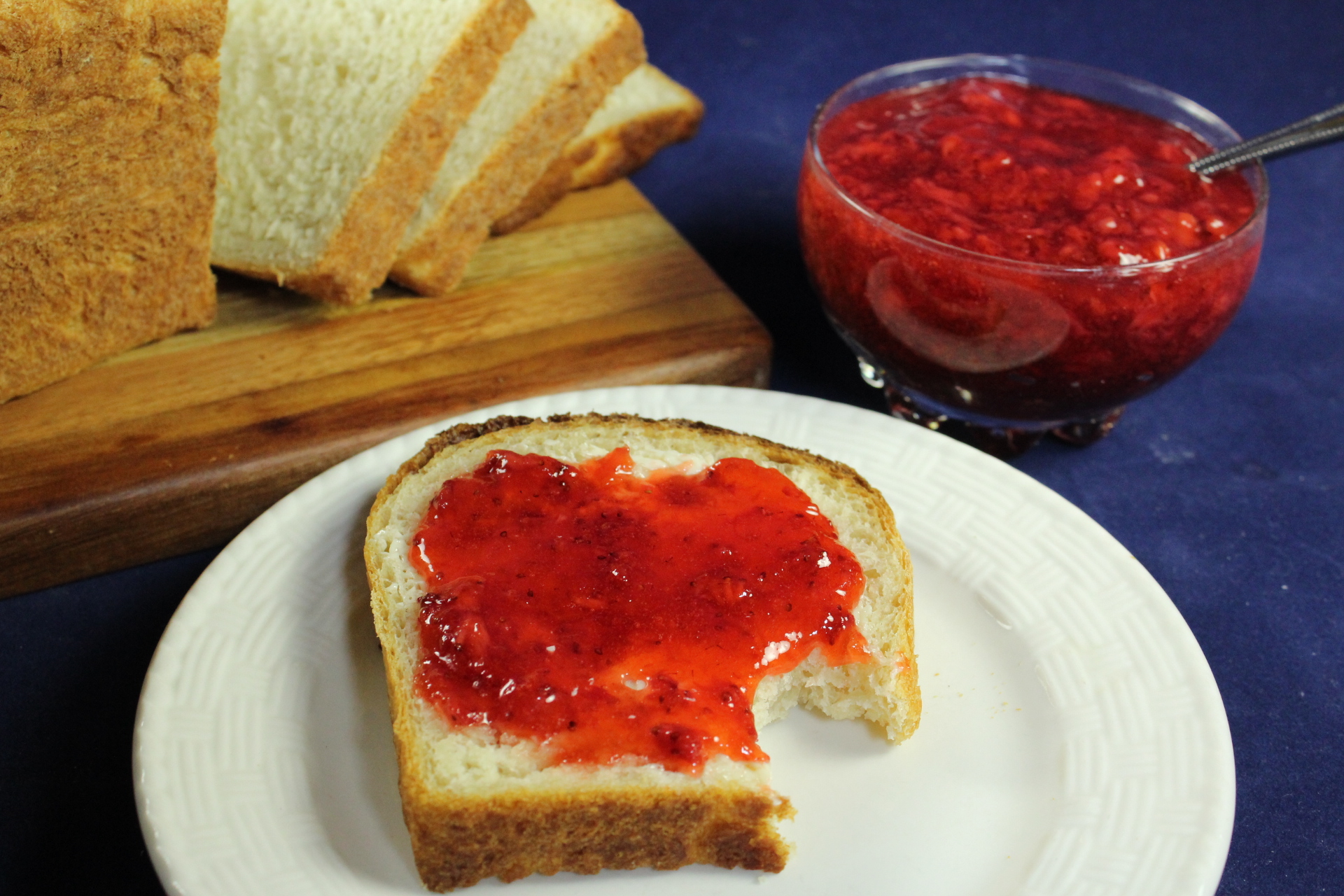 Ingredients
4 c. crushed strawberries (abt 2 2/3 lb)
2 T. lemon juice
2 c. sugar
1/2-3/4 c. Ultra Gel
Instructions
Crush strawberries.
Measure strawberry puree into a bowl.
Add lemon juice.
Add sugar and stir until completely dissolved.
Sprinkle Ultra Gel into fruit puree mixture gradually and stir with a wire whisk until smooth.
Allow "Jam" to thicken for 15 minutes, stirring occasionally.
Package into freezer containers and store in the refrigerator or freezer. Makes six cups.
NOTE: Because this is a low-sugar recipe, the jam will not keep in the refrigerator as well as a standard high-sugar jam.
Best to store in small containers and use within a couple of weeks.
NOTE: For a deeper, richer color, add 1/4 t. strawberry KoolAid to each batch.
NOTE: Ultra Gel® thickened products will go thin if saliva is introduced into the product. Be sure not to taste the product and return the spoon to the "jam". It isn't very sanitary, anyway!
7.8.1.2
40
https://carnetfoods.com/low-sugar-strawberry-freezer-fruit-spread-jam/