Potato and leek soup--pure comfort food!  This classic French soup has a place in any kitchen--easy-to-find ingredients and mild flavors--perfect for a chilly Sunday afternoon.  Or a quick weekday meal--pair it with  crusty bread and curl up with a blanket!
Fresh Potato and Leek Soup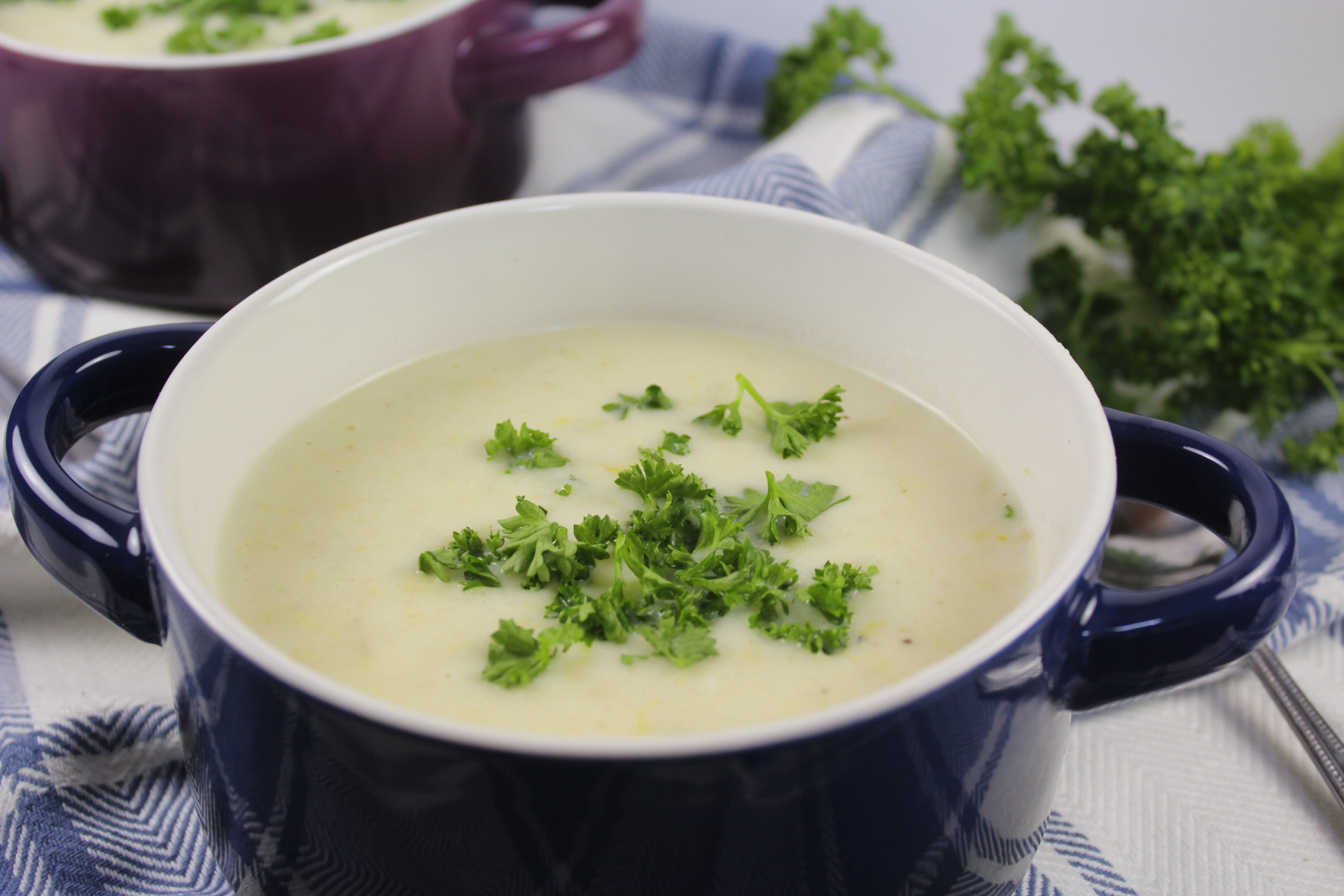 Ingredients
1 1/2 c. finely chopped leeks, with tops
1 c. chopped onion
1 clove garlic, minced
2 T. butter or margarine
4 c. regular strength chicken broth
3 c. peeled potatoes, 1/2" dice
1 c. half and half or heavy cream
salt and pepper to taste
¾ c. Ultra Gel®
chopped parsley
Instructions
Saute leeks, onion, and garlic in butter in a large Dutch oven over medium-high heat until tender but not brown.
Add chicken broth and potato; reduce heat and simmer 20 minutes or until vegetables are tender.
Add half and half and salt and pepper to taste.
Add ULTRA GEL gradually, stirring constantly with a wire whisk. Heat to serving temperature (do not boil).
Serve immediately, garnished with chopped parsley, or puree, using a handheld blender before serving.
7.8.1.2
33
https://carnetfoods.com/fresh-leek-soup/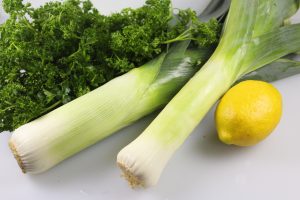 Leeks look like really big green onions, and are a very mild and flavorful member of the same plant family.  I put the lemon in the photo to help show how big leeks can really be!  I've seen them in a variety of sizes, so I think a measurement of the quantity of "sliced/chopped leek" is more accurate than "one leek".  Leeks are often used in soups and other dishes where their mild flavor is treasured.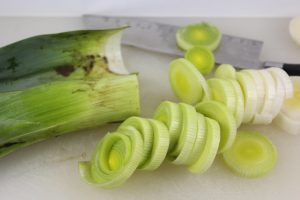 Leeks sometimes pose a challenge to clean, as they often have dirt packed firmly in the leaves.  This is because during the growing process, dirt is piled up around the leek plants to help develop more of the tender white part.  That just means that you need to be careful about washing.  The white and light green parts are most commonly used, so the green fibrous leaves can be peeled back during slicing and any dirt rinsed away.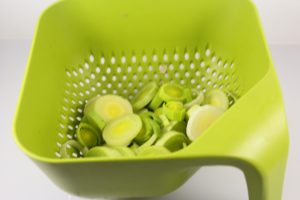 It's always a good idea, though, to put sliced leeks in a colander and rinse them well before cooking.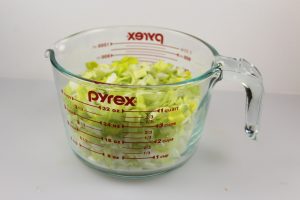 Lazy man's trick--you can measure multiple items in the same measuring cup if it is big enough to "add to".  Here the diced onions were measured, then the diced leeks added to them.  Less dishes to wash!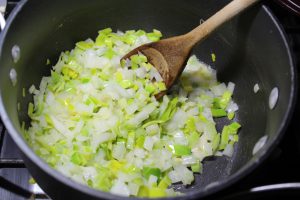 Saute the onions and leeks in the butter until the vegetables are tender.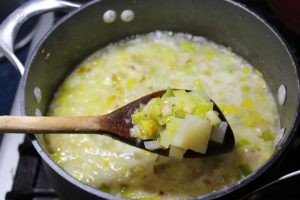 Then add the potatoes and chicken broth, cover, and cook until the potatoes are tender.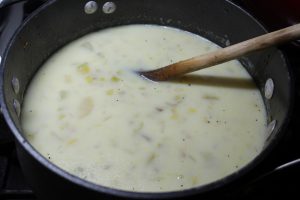 Add the half and half or heavy cream, then stir in the Ultra Gel® gradually with a wire whisk.  Continue heating at a low heat to serving temperature. Keep a close eye on it--it will scorch easily!
If you want the soup thicker, add more Ultra Gel®, a tablespoon at a time.  If you want it thinner, add more chicken broth or half and half.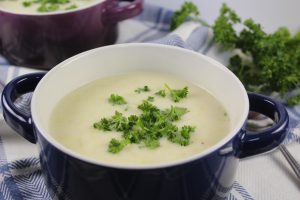 You can serve it "chunky", or use a hand-held blender to smooth it into a silky smooth creamy puree that soothes both the stomach and the soul.