Ever had that moment when you thought  "I need a hearty, substantial main dish for an event away from home?"  Or a quick and easy meal for in-home eating? Look no further!  The Sloppy Joe of your youth has been updated and slightly thickened to result in an easy to prepare, easy-to-carry and easy-to-eat summer "go to".  Ground beef is browned and mixed with many of the traditional ingredients of a summer hamburger cook-out.  Ketchup?  Check.  Mustard?  Check.  Tomato?  Check.  But it stays juicy over a period of time, doesn't require condiments, and is easy to carry and serve.
Decidedly UN-Sloppy Joes! Great for summer picnics!
Ingredients
2 lb ground beef (at least 85/15)
1 c. diced onion
1 c. diced green pepper or celery (if desired)
2 t. seasoning salt (or 1 1/2 t. salt + 1/4 t. garlic powder and 1/4 t. onion powder)
1/2 t. ground pepper
1/4 c. ketchup
1 T. mustard (I like Dijon)
1-15 oz can tomato sauce
1 T. Worcestershire sauce
1 T. vinegar
1/3 c. brown sugar
1/2 t. smoke flavoring (like liquid smoke)
3 T. Ultra Gel® modified food starch
Instructions
Brown ground beef with lightly with onion, celery or green pepper (if you're using them), seasoning salt and pepper. Pour off any excess grease.
Add tomato sauce, Worcestershire sauce, vinegar, brown sugar and smoke flavoring.
Simmer 5 minutes.
Sprinkle Ultra Gel® over the mixture and stir in--cook another two minutes to thicken.
7.8.1.2
10
https://carnetfoods.com/decidedly-un-sloppy-joes-great-for-summer-picnics/
You can easily half this recipe--but why would you?  It freezes great--if there's any left!
Hints:  If you will be serving children who would be offended by seeing any vegetables (including onions) on their plate, take a few extra minutes to chop the onions and celery extra fine.  Also, finely chopped red peppers won't be as obvious to said picky child as green peppers.
If you're packing this up for eating away from home, be sure to follow the rules for safe food storage--food shouldn't be between 40 degrees F  140 degrees F for more than two hours.  A slow cooker will keep the product above the danger zone for a good period of time, as long as both the product and the slow cooker start out hot.  A fuller slow cooker will hold heat better than a mostly empty one.  Or if you're camping for a couple of days, the cooked UN-sloppy Joe mix  can be frozen in a container and stored in an ice chest, where it will help keep other items cold as it thaws.  Be sure to discard products after the meal if you don't have the facilities to cool them back down quickly.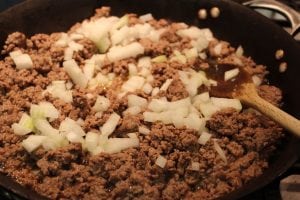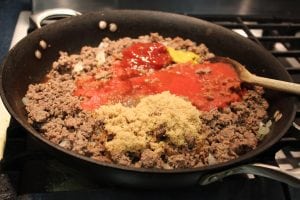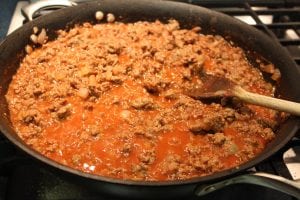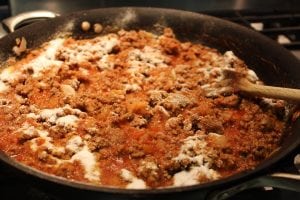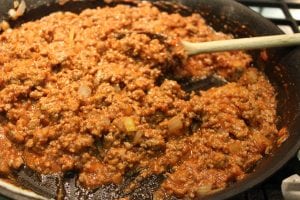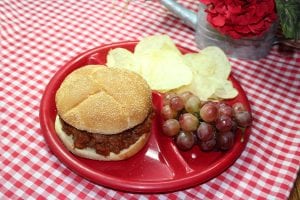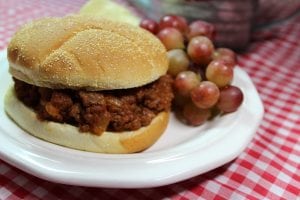 Wishing you lots of summer eating fun!!